It's a gorgeous summer evening in Edinburgh as Summerhall prepares to host Wild Beasts, part of the ever popular 'Nothing Ever Happens Here' concert series.
With the sun shut out by huge curtains, support act Paul Marshall takes to the stage for one of his last shows under the Lone Wolf pseudonym. Backed by a touring keyboard player and drummer, Marshall's bruised, delicate vocal is front and centre as the trio perform tracks from new album 'The Lodge', a highly personal work detailing struggles with anxiety, depression and creativity. The insistent piano and melancholic melody of current single 'Get Rough' lingers long in the memory while 'Give Up', with it's lyric ' I've been sleeping with a blindfold on / I've been sleeping with the curtains drawn', is both haunting and rather apt given the sliver of light leaking through the drapes.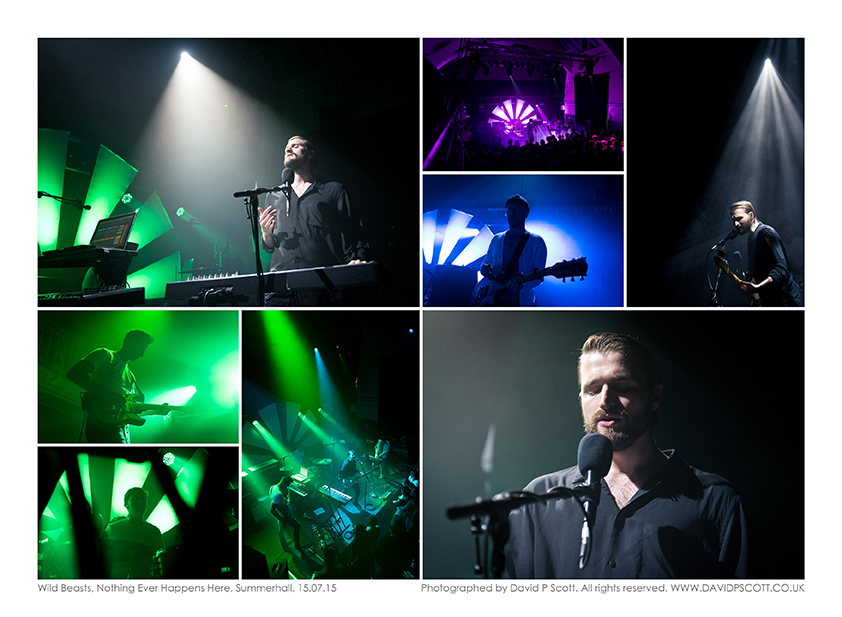 There's a frisson of anticipation as a now packed and very sweaty Dissection Room waits for the inventively idiosyncratic Wild Beasts. Kicking off with 'Mecca' from last year's 'Present Tense' the band are supple and confident. The distinctive duel of opposites in Hayden Thorpe's and Tom Fleming's vocals heightens the drama of the music, accentuated even further this evening by spotlights that pick out each performer as they sing leaving the rest of the stage in darkness. Standouts include 'A Simple Beautiful Truth', 'We Still Got the Taste Dancin' on Our Tongues' which soars on Ben Little's spider like guitar and Chris Talbot's drumming and the synth led juggernaut 'Wanderlust'.
Despite 'Daughters' once again drawing attention to the curtains stage left and the summer sun beyond with the line 'I'm taping up the windows', tonight is all about Wild Beasts' nocturnal tales. It's a point Flemming gleefully proves by introducing the debauched shenanigans of 'All the King's Men' as "A song about fucking" before 'Lion's Share' finishes things off in a crescendo of drums and dirty dancing.