To followers of the current music scene music he will be known as frontman of Rev Magnetic, regularly spotted on the gig circuit in the UK and Europe, whether in their own right or as guests on some pretty high-profile bills.
For fans of a certain age, however, the name Long Fin Killie will ring bells, especially among Fall completists, and keen readers will be familiar with the name of Whitbread-nominated author Luke Sutherland. Plenty to pack into ten questions, then…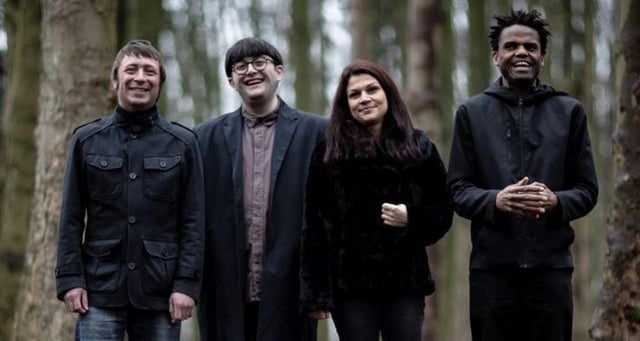 • 1. So Luke, what sort of a year have you had with Rev Magnetic? Highlights and lowlights?
A fairly quiet one. Just over a year ago, we wrapped up a UK/EU tour opening for The Jesus and Mary Chain. It was the trip of a lifetime, punctuated by the snapping of my Achilles tendon at the first show. I've spent a chunk of 2022 recovering from that (lowlight) and another chunk contributing to tunes for a new Rev Magnetic album (highlight).
• 2. Betty understands that you were raised in the Orkney Islands – do you go back there much, and how do you regard that now?
I go back a fair bit. Last time was in September. My memory of growing up there…? One minute you'd be rowing out into the bay to catch fish, cycling to what felt like the top of the world for a breathtaking view of the archipelago, or running riot between the dunes of the sandiest beaches. Next you'd have someone standing on your head, telling you to go back to Africa, you f**king N-word. Ecstatic, violent, enthralling, frightening, exhilarating, soul-destroying. For all my ambivalence about the place, it formed me, and I have an undiminished, elemental connection to it. If I'm from anywhere at all, I'm from Orkney.
• 3. What initially motivated you to become a musician (and don't say "the money"!)
It was a question of survival. The bullying in Orkney got to the point that nowhere felt safe. I needed a refuge and found it in music and books. The experience of listening and reading was utterly immersive and transportive: I lived in those songs and between those pages. More than just escaping from the daily grind, I was searching for proof of a world defined by variety and idiosyncrasy, a place in which all possibilities from the most congruent and logical to the most idiosyncratic and downright magickal were manifest; a place in which an anomaly such as I felt myself to be (and was made to feel), might be unconditionally accepted. When it came to playing, actively connecting with like-minded souls through music, these ecstatic effects and perspectives were magnified and I pursued them with increased and obsessive energy. Still do.
• 4. Your band Rev Magnetic are supporting Mogwai at the Barrowland Ballroom later this month (tickets still available, BM thinks) – what has been your relationship with them over the years and will you be trying to upstage them?
I've been an occasional touring/recording member of Mogwai since 1998, and a full-time fan since just before that. We've had some great experiences together. I've seen them play some truly devastating shows. Given what they've achieved and the atom-shattering sound they make (I hold them in as high regard as I do, My Bloody Valentine, Loop, Ride, The Cure…) they're a marvellously down-to-earth bunch. The thing that strikes me most about them as people (and I think this may be a clue to their longevity), is how much they make one another laugh. We won't be trying to upstage them. We're just looking to enjoy ourselves and play a great show.
• 5. How has the band Rev Magnetic evolved over the years? Has it worked out as you initially envisaged, or somewhat differently?
What I had in my head was a chaotic and colourful racket, part guitar-heavy, part-electronic, part-classical/acoustic. Live, it's a bit more guitar-oriented than I'd imagined, but that's changing…
• 6. Obvious Rev Magnetic like most bands has a presence on social media – what do you make of the current controversy over Twitter and will be be withdrawing from it any time soon?
I don't make much of it. We use Twitter to relay news. Beyond that, I've very little involvement.
• 7. How easy is it to fund and make a record in 2022 and to tour it – and will it be any easier in 2023 or further into the future?
Current vinyl manufacturing calamity aside, given advances in home recording, making and funding a record is probably easier now than it ever was. Touring profitably in anything approaching comfort, on the other hand, seems to be way harder. The perfect storm of a post-Covid rush (which has created a bottleneck of fully-booked venues), high inflation (in the shape of rising fuel, accommodation, travel and hire costs) and the continuing erosion of traditional revenue streams (Brexit red tape for UK bands; streaming with its shameful royalty rates etc) is pushing a lot of us out of the game. More time spent trying to earn a crust often outside of music, means less time spent making/promoting music. Will it get any easier? I'm always optimistic that we'll see the emergence of strategies and models to mitigate the worst effects of whatever the prevailing system, but it does feel as though most bands and artists have been losing ground for a long time.
• 8. How to you access new music (or do you) and what attracts your immediate attention?
Mostly radio. If I hear something good, I write it down. I've compiled a list of hundreds of songs and albums over the years. Feel/atmosphere is what gets my attention first and foremost. Lyrics are usually the last thing I tune into, if I register them at all. I've had a few what-are-you-trying-to-tell-me? responses to mixtapes for this very reason.
• 9. It can't have escaped us here in Glasgow that the actor James McAvoy made a pretty damning inditement of Glasgow's attitude to the black actors who were part of a recent touring production he was performing it – does this surprise you in 2022 and are the Scottish guilty deluding themselves that we are not a racist country?
I'm sorry to say it doesn't surprise me at all. In the mid-nineties, I moved away from Scotland, largely because racism seemed to be rife. The very day I left, someone yelled abuse at me from a passing car. Fifteen years and four countries later, I returned, my experiences having led me to two conclusions: one – that racism is everywhere; two – better the devil you know. Having been back here a decade, my impression is that Scotland is no less racist than it was when I left. What's changed, in my opinion, is how the hate's expressed. I'm rarely shouted at in the street these days (four times in the last year), but I've lost count of microaggressions, from racial profiling by in-house staff, to being made the butt of an ostensible ally's drunken "joke". Shifting cultural standards around bigotry have given rise to what I'd call "functioning racists" – folk who manage to hide their prejudices from friends and family (or whose prejudices are tolerated by friends and family as ironic), but who are clearly uncomfortable with what they perceive to be racial difference. The ace of functioning racism is that it's highly deniable and easily concealed. I've walked into many situations that on the surface have seemed quite safe, only to discover that they were nothing of the sort. To call someone out, you run the risk of being gaslit, ostracised. How, in the absence of demonstrable evidence do you tell someone their close pal or bandmate or parent is, or is being, racist?
• 10. And finally (and BM usually asks everyone this) – as a performer, what have been your best and worst live gig experiences.
Worst: Snapping my Achilles tendon onstage at Glasgow Barrowland, 2022.
Best: Long Fin Killie – first headline tour of Germany, 1996.
The year before, we'd played a label (Too Pure) showcase at Popkomm in Cologne with a bunch of other bands including Mouse On Mars, Pram and Laika. A few weeks later, we did a handful of shows opening for Pere Ubu. Both went well enough that we were offered our own tour. It was a total blast. Highlights: seeing a fan at the Hamburg show sing and air drum the entirety of our set; marathon mass dancing in Münster.
Rev Magnetic play Glasgow's Barrowland on December 23rd as guests of Mogwai. More at
revmagnetic.com