Who would live in a world like this? Through the keyhole, we see one Paul Vickers and his surreal take on music and life.
The former frontman of cult '90s Galashiels band Dawn of the Replicants may now be as well known for his chaotic Fringe stageshows under his Mr Twonkeys alias.
But now, he's back collaborating with Edinburgh band The Leg on 'Jump', their first long player in four years, and things are almost normal.
"There's been a sort of push to do a record that where everything was on a certain level so it's more produced than normal," says the singer in his Borders-tinged Yorkshire drawl.
"In the Reps days we did very little practising," he admits, "we'd just go to the studio, and hope to god it came together – and sometimes magical things would happen."
The new stability may be down to an expanded lineup – bassist James Metcalfe is a new arrival, but John Mackie was in Khaya (Edinburgh contemporaries of Vickers' old band). "He'd been playing with Dan for years," the singer says, "you could really hear that when he came in, the first time practising I though 'that's the missing part of the puzzle'."
Alongside Dan Mutch, and drummer Alun Scurlock, is Pete Harvey, cellist, but also responsible for producing the new release at his Pumpkinfield studio.
"It took about six months for Pete to add his cello to finish it off – he has a lot on his plate." Harvey is very much in demand, with his band Modern Studies as well as working with King Creosote but was given time to apply his painstaking production to 'Jump'.
However, Vickers has also plenty to keep him busy, at least for part of the year – with Twonkeys, his long-running and slightly bizarre Fringe stageshow featuring, variously, weird puppets, identifying cheese by smell, a ship's wheel festooned with Primark knickers, and interspersed with Vickers' narration and songs.
"It's like a scrapbook of ideas – I use it as a pressure valve for things I couldn't fit in anywhere else," the frontman recounts.
And this surreal world carries into his music too – even his style of singing.
"When we started the Reps I sang in a melodic gentle kind of way but as I got older I got into a more gravelly Tom Waits-y voice… but recently I've been trying to go back a bit to singing in a more melodic style."
Would it be fair to say that Waits' influence as a teller of strange stories has also rubbed off?
"Maybe, but there must have been a point when Tom Waits' wife said 'is there any need for another song about a one-armed dwarf?'"
'Jump' is a decidedly 'pop' effort compared to its predecessors, which perhaps sees the band cast off their previous more left-field influences.
"I'm really trying hard not to say this, as every single interview mentions Captain Beefheart, and now this one is too.
"But 'Itchy Grumble' (the second album recorded with The Leg, nine years ago) – and now I'm using a Beefheart reference – nightmare! – it was our 'Trout Mask Replica', a concept album, that was more or less improvised; that's as far as we could have gone with that kind of thing."
"I don't actually listen to Beefheart all the time, he adds, "it's like bread, a good solid diet, a good thing to go back to."
Now recording for the independent Tenement Records, Vickers is more relaxed than his major label days.
"There was pressure with the Reps to write hits because being on a major that's what it was all about, they pretended it was about other things but it wasn't.
"And if you write a really amazing song it's a great feeling, but you have to write some more at that level, or else you have one amazing song and… all these other songs.
"So I keep it moderate, just to be on the safe side!"
But would Vickers actually want chart success and all that goes with it?
"If the poison chalice of fame was offered and people were going to hear and appreciate (our songs) then I would drink from the chalice," he confesses, "though I'd probably fall in the canal at some point in a drunken stupor."
But it may be that with The Leg he has finally hit upon a sound that will keep everyone happy.
"We can still make a really great… I don't think it's rock, I don't know what genre of music we're in, and if I say one the rest of the band will chastise me… but it's a very good example of whatever it is!"
'Jump' is out now. More at www.tenementrecords.com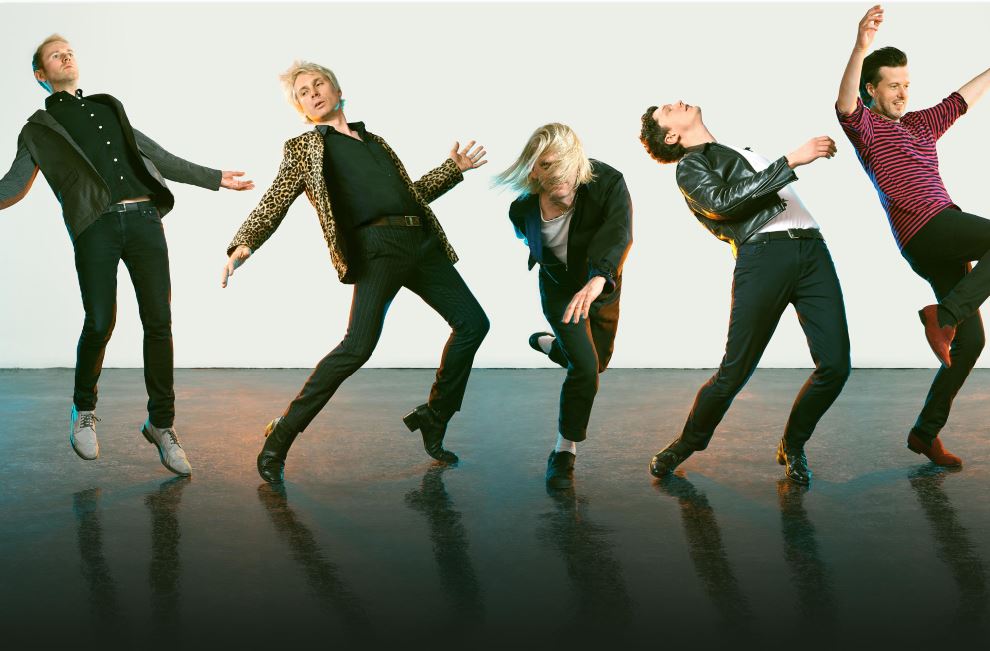 This article originally appeared in the Hawick Advertiser.