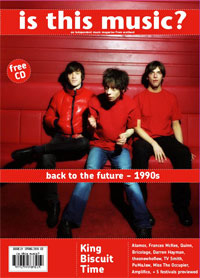 featuring:
1990s, King Biscuit Time, Alamos, Frances McKee, Quinn, Bricolage, Darren Hayman, theonewhoflew, TV Smith, PuMaJaw, Miss The Occupier, Amplifico…
reviews of:
Gogol Bordello, Calamateur, King Creosote, Bromheads Jacket, Jenny Lewis, DriveBy Argument, Buzzcocks.
plus a FREE CD featuring:
TV Smith, Frances McKee, Endor, Amplifico, Y'all Is Fantasy Island, PuMaJaW, Attic Lights, Isa And The Filthy Tongues, Bricolage, Quinn….
More info
Try before you buy – highlights from itm? #21
Buy online NOW!
| | | | | | |
| --- | --- | --- | --- | --- | --- |
| UK £3.50 | | EU £4.50 | | ROTW £5 | |
cheques for the amounts below should be drawn in sterling and made payable to 'V12'
is this music? PO Box 13516 Linlithgow EH49 6WB Scotland (UK)