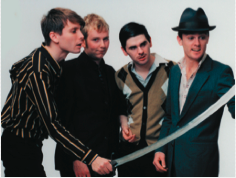 Interview with Franz Ferdinand conducted on 8th August 2005 By Stephen Cameron in conjunction with Manel Roig of Suite Magazine (Barcelona).
Manel asked the questions, while itm?'s Stephen Cameron propped him up and prompted him. The questions were carefully chosen by a panel including Mig (booker at Nice'n'Sleazy), Dave (Vera Cruise guitarist and Teenage Fanclub keyboard player), Ross and Norman (blaggers/photographers from The Scottish Daily Mirror), Rachel (wife of Glen the Franz tour manager), and various others backstage.
The interview was filmed by Alex Kapranos and Glen the tour manager. Present were Alex, Nick and Bob.
1) Manel, in a very slurred Spanish accent – "Huurrrgghh have you met Jesus?"
The band crack up with laughter. "No, but you obviously have. Can you introduce us to him. We'd really love to meet him. We've heard he's a very nice fella."
SC – "He's fairly busy at moment, but I can ask Stuart Murdoch to put in a good word for you."
Franz – "Cheers, we'd really appreciate that."
2) Have you ever been in a video directed by John Leslie?
"Yes, we have. In fact, all our videos have been directed by him. Haven't you been in one of his videos too?"
3) What number is purple? (This was Mig's question)
Band, unfazed but perhaps thrown by the metaphysical nature of the question – "Orange, no red, nah green."
4) How long does it take for the effects of the blue ones to wear off?
The band "We were hoping you could tell us! Can you tell us what it is like?"
Manel – "It is great – I have been touched by the hand of God! Now I can fly!"
5) What is the Oxfordshire town commonly associated with M.G. Cars?* (This question came from a crossword puzzle that Rachel was doing backstage.)
Quick as a flash, two of the band shout "Abingdon!"
So there we have it, Franz Ferdinand the band who have it all; wit, style, the tunes and knowledge.