In the first of an irregular series, we republish classic itm? interviews. This originally appeared in issue 6 of the print edition, and was the first interview, anywhere, with the soon-to-be-megastars.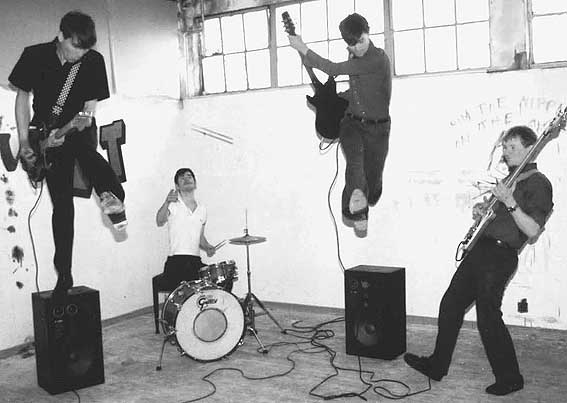 Not too many bands take their name from historical figures and play in old prisons and derelict buildings surrounded by art installations, but that's part of the story so far for Franz Ferdinand. The latest chapter is that they've just become Glasgow's latest 'signed' band, putting pen to paper on a deal with Domino Records. We catch up with them in the suitably artistic surroundings of a cafe next to Glasgow's Theatre Royal, where they are all about to attend the opera. Blimey. However, they're not comfortable with being tagged highbrow arty rockers.
"Art influences our music," says lead singer Alex Huntley, "but only in the same context as everything else. Everything influences the way you make music, from whether you had a bath that morning to what the last book you read was. Those less direct influences are more important; the films you watch, the conversations you have with your friends. They influence your music more than the last record you listened to. Music shouldn't come from hearing a record and trying to reproduce it, it should come from a general absorption of everything around you."
Fellow band members Bob and Paul try to describe what we can expect as the end result of these influences. Terms like 'intelligent rock' and 'literate pop' are thrown into the ring, though keyboard and guitars man Nick prefers the simpler description; "we make pop music, but it's quite raw."
Franz Ferdinand was, of course, the Archduke of Austria-Hungary, whose murder supposedly lit the touch paper on the First World War. So are our boys history buffs as well? "Mainly we just liked the way it sounded," says Bob. "We liked the alliteration."
"He was an incredible figure as well," continues Alex. "His life, or at least the ending of it, was the catalyst for the complete transformation of the world – he was a pivot for history. But I don't want to over-intellectualise the name thing. Basically a name should just sound good – like music."
Paul has a rather grander notion. "I like the idea that, if we become popular, maybe the words Franz Ferdinand will make people think of the band instead of the historical figure." Discussions continue along the lines that nobody thinks about insects when beetles are mentioned and, unsure where it's all leading, we move swiftly onto the band's recording plans.
"We're recording a single soon", says Alex. "It's called Darts of Pleasure and should be out around July. In a few weeks, we'll get to work on an album. Tor Johanssen, who's worked with The Cardigans and St Etienne, is producing."
So how did the move to Domino come about? Alex fills me in. "We played a gig in London and Lawrence Bell came to see us. We had a chat and it turned out we had a lot of common interests and liked similar things musically. We spoke to a few really good labels but Lawrence is a special guy and that was what attracted us to Domino. Some of the label people we encountered were real coked-up industry types, but he is as far from that as you can get. He's a great bloke that loves his music."
"It's about personalities as much as anything," says Paul.
"They're a close-knit organisation and so are we, so for us it was just like opening ranks and welcoming more members." Alex concludes; "all bands are really made by the personalities combining and I think labels can work in the same way. The personality of a band and the personality of a label can fit together really well. Some of the labels we spoke to, we just thought 'no way' but with Domino, it seemed right." A match made in heaven? History will tell the tale.
Writer John Clarke, apart from further contributing to itm?, went on to write for the BBC, among others, before crossing to the dark side to become a media lecturer.
No-one is quite sure what happened to Franz Ferdinand…