From October 1969 to September 1970, five callow youngsters managed to score four #1 hits on the U.S. chart, beginning with the immortal 'I Want You Back'.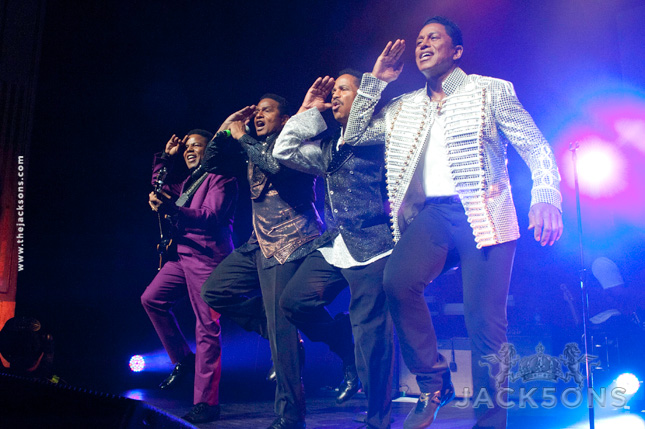 In 1976 the Jackson 5 broke from their reputedly despotic Motown label, swapped Jermaine for Randy, renamed themselves the Jacksons and eventually reinvented themselves as disco titans, scoring global hits with classics such as the smooth and funky 'Shake Your Body'.
This month they visit the Clyde Auditorium with the 'Unity Tour', their first visit to Glasgow since a show at the Apollo in 1979. But, as no one needs reminding, there will be a very significant absence from their line-up this time around.
In an era when Queen can tour without Freddie, Hooky can play Joy Division albums with three Sleeperblokes in tow, and no one knows who's in the Beach Boys from one gig to the next, clearly anything goes. But can such depleted line-ups ever recreate the original magic? Can the Jacksons still shake your body? If not, should we blame it on the boogie? And should you go and see them? To help you make up your mind, here are a few pros and cons.
Pro
These are the same four guys who with Michael, made up the Jackson 5. The Jackson 5! An iconic group who brought us pop gold such as 'ABC' and 'Mama's Pearl,' songs which still pulsate with exuberance and joy 40 years later.
Con
One of the most important Jacksons won't be there… Yes, Randy Jackson (who helped make the classic MJ album 'Off the Wall') is not on the tour. Randy, the youngest and the butt of many a joke back on their short-lived TV series (which even David Letterman guested on!), is a talented multi-instrumentalist, but won't be with his brothers this time.
Pro
The lead singer will be absent. But, it was never just Michael singing lead. Even on 'The Love You Save' and 'I'll Be There' he trades vocal licks with Jermaine and Jackie. Jermaine sings lead on lesser known, but great tracks such as 'I Will Find A Way' and the prog-funk-soul of 'I Am Love'.
Con
They probably won't play those.
Pro
As award winning documentary 'Standing in the Shadows of Motown' showed, it's not always the most prominent face on an album that makes the music work, or has the most interesting story.
Con
The most interesting story here, has worrying potential for gig-related schmaltz…
Pro
Whatever unresolved issues there may be relating to any Jackson, these four performed on a number of legendary tracks which will never go out of circulation and are constantly referenced by current artists in samples and covers. There will be few more chances to see them in the flesh.
Conclusion:
If, like me, you grew up with 'Dancing Machine' blaring out the speakers of your mum's Datsun Cherry from a Jackson 5 mixtape,  and the first single you bought yourself was the 1988 remix of 'I Want You Back' (superfluous sacrilege, in hindsight), this is not really a chance that can be passed up.
Otis is gone, Marvin is gone, and yes, Michael's gone too. But the four guys who sang with him on the Ed Sullivan Show, are here. And yes, (sorry) I'll be there!
The Jacksons play 15 European dates this month including shows in Manchester, Birmingham, Glasgow SECC on the 28th February, winding up in Bournemouth on March 2nd. More at www.thejacksons.com